By On September 17th, 2010
MW-ORBIT is the new music project by musician, podcaster and voice over artist  Rick Moyer.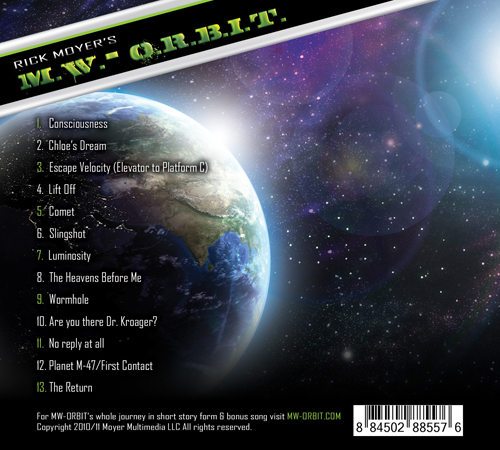 MW-ORBIT is a music/short story project about the journey of an artificially intelligent probe that is launched to explore for life in the Milky Way galaxy.  It is electronic rock/pop that tells a story.
The entire story is located at http://www.mw-orbit.com
I'm running a special through Jan 31st, 2011- if you buy the digital download from CD baby, when the physical CD's come in, I will send you one for shipping plus a couple of bucks ($5 total) if you buy the physical CD when it is available I will give you a download code for ($5) so you get a digital and hard copy CD.  (I know some folks love that, or you can give the other one as a gift.)  So make sure you email me with your reciept (rick@takehimwithyou.com) and I will work out payment with you on paypal.
Hi, I'm Rick Moyer, the composer of STARGAZER.  In this follow up music project I do a little story telling as a small probe explores the wonders of the Universe. 
The MW-ORBIT project consists of 13 songs, intros and bonus track of cool space music that tells a story.
MW's Journey:
I am MW-ORBIT (Milky Way Orbital Reconnaissance Being In Tandem)  I was launched in 2060 by a team of Scientists from NASA under the supervision of Dr. Larry Kroager.  I am the first light speed artificially intelligent probe to specifically search for life in the Milky Way. This music compilation is the culmination of my experiences from activation to the present. 
MW wants to thank:
Dr. Larry Kroager and the team of scientists at NASA, Chloe the kitten, and his friends on Twitter.
Rick Moyer wants to thank:
My wife Amy and my family, Nathan & Ivy, Andrew & Catherine for believing in me and having patience as I create. My parents Ron & Genevieve Moyer, my mother in law Ena Bale, Stefan Sawynok and his family for their incredible friendship and support, The Martians are here Podcast (themartiansarehere.com), Tim Wetzel, Jeff Jobb and all those that have invested in this project. My cat Stripey for co-writing Luminosity, Sarah Rosengaard, Ella Anatasia, Simon Meddings,Carole Richards, Richard Peete, Rick Dostie from the Treks in Sci Fi podcast, Kenny Mittleider, Mike Featherstone and his pyramid project, Jen, Dave and Aaron Rhodes, Vartok, Kathy Jamsgard, The Wetzel family, Ged & Jenni West, Doug & Therese Backholm, my followers on Twitter & Facebook,  All those who bought the Stargazer CD, Christina and Jonathan To at Ocean Palace in Aberdeen, Curtis Klinger, The crew at Techline, Jerry & Kathy Brown, Allen Anderson, Preston Ward, Darren Montgomery,  all my friends on the Treks in Sci Fi discussion forum, all of our friends that give and have given to the Take Him With You Podcast, and especially Jesus Christ, my inspiration and the creator of the Universe.
 
Visit www.mw-orbit.com
And also check out my other music like STARGAZER on ITunes, Amazon, CDbaby and more!